Every parent wants their child's strong strength in Maths and here are the top 5 reasons how one on one Maths tuition may help your child to excel in Mathematics.
Maths is the foundation subject for most career options and programs when your child goes for higher studies. Even it helps you to decide the stream for further study after secondary education also. And this is the main reason why every Indian parent wants their child to be strong enough in the foundation subject- Maths.
Maths is not only benefiting you in higher education but also this subject is the key skillset for most entrance exams, interviews and in real-jobs also that includes a lot of thinking skills, analytical skills, data science jobs.
But the reality is Maths is quite different in concepts, and theory from other subjects and somewhere it becomes quite difficult for students.
The ultimate goal of Mathematics is to know the data presented, apply the skills you know, and reapply the concepts wherever required in the future. Each grade has add-ons to the basic concepts, now these concepts will be converted in big equations. It's good to understand that understand the concepts rather than memorizing them.
Like many parents you must be thinking about one-to-one Maths tuition, would it be beneficial?
Your child must be struggling in school with Maths and he/she finds himself a little nervous or not confident due to the problem with Maths subject.
What does this "One to one" Maths Tuition or "One on One" involve?
It's very simple- One Tutor, teaching one student at a time.
This teacher will be teaching one student only for the next half hour or one hour. At that time, the tutor will completely focus on one subject only and try to clear as many concepts simply as he/she can and ensure the student is getting everything very clearly.
This one-to-one tuition can be arranged offline or in school or at home or online. At all places, the tutor is focused to teach this one student only at a time.
Online one-on-one tuition
There are a variety of ways to get one-to-one Maths tuition or Science tuition. Online one-to-one tuition has a big advantage that can't fulfill offline tuition.
Online one-to-one tuition is not getting you limitation by your physical location and you can ensure the best-experienced tutor for your child's tuition. At Tuitionpad, we have many stories of parents who trusted in our online one-to-one Maths tuition and were very happy seeing their child's problem solved greatly from the comfort of their home. Also, you can see here the 10 most important facts about online tuition.
Benefits of getting one-to-one Maths tutoring for your child
There are many benefits, but here we are pointing to 5 main benefits every parent would see before enrolling their child in one-to-one Maths tuition.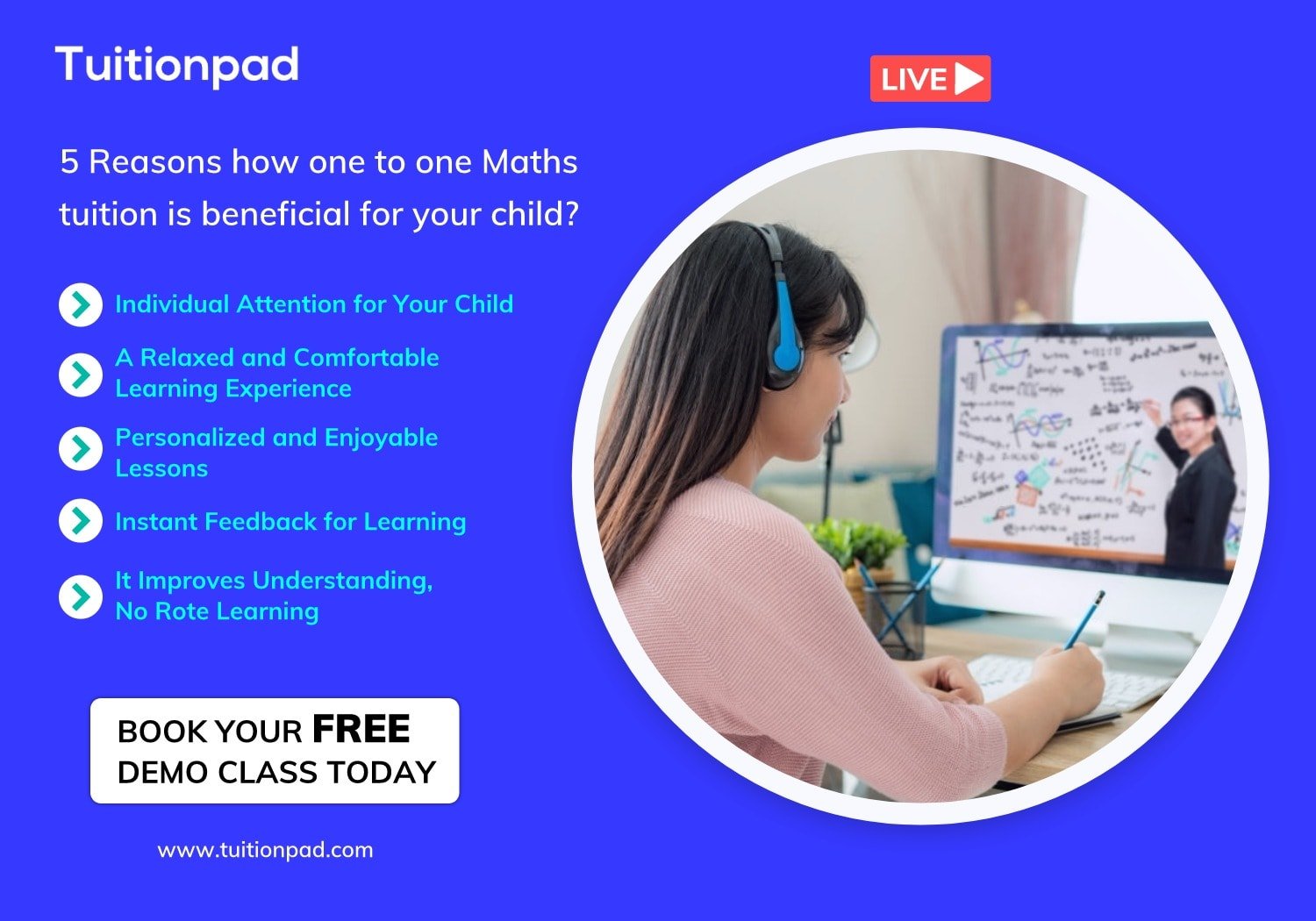 1. Individual Attention for Your Child
Maths is a subject that requires a tutor's personal attention specifically. And it requires more attention when a student's foundation is not have been strong from previous classes. Because in every grade Maths level of equations and formulas step up and they have relativity with previous class. Tutor's Personal is possible only in one-to-one class and very helpful to get the Maths barrier of your child removed.
As per our previous batches' data, we have seen more than 92% of students that were weak in Maths and get improved by 70% after the successful completion of our one-to-one Maths tuition batch.
2. A Relaxed and Comfortable Learning Experience
One-to-one tuition is most comfortable as the tutor can get a sense of where he/she needs to give extra support or more explanation/ give another easy way to understand the topic or solution. This method barely left any confusion or it's equal to none, which makes a student more confident and increases his/her interest in the subject.
3. Personalized and Enjoyable Lessons
One explanation doesn't work well for every student, which means some of the students needs more relatable example for them to understand. When there is only a student, the tutor can make a lesson more enjoyable and story-based- that is the best and very easy way to learn.
4. Instant Feedback for Learning
Feedback is a very important process when you are learning something. But what happens in the traditional classrooms, due to a big number of students- the teacher can't take proper feedback on the topic or concept.
Yes, personal tuition with a capacity of one student only, the teacher can get proper and exact feedback about the topic. And it increases the understanding of the topic and the teacher can teach what exactly the student missed.
5. It Improves Understanding, No Rote Learning
Rote learning is not a long-term solution or it can't be suggested in any way. Students need to understand the logic, concepts, Why, How, and what of any topic, and once they understood this learning, concepts remain with them anytime. I am not a subject teacher and not teaching science and never taught but I still know about the Rutherford Model.
This is learning that remains with you always but whatever you have remembered forcefully for a short time, is no longer with you. One-on-one tuition is all about making concepts clear and nothing about rote learning. it's students' psychology - students know that there are 20 days left for examination and they have not good in concepts, what they will do? They are going to remember topics(finding a short-term solution).
Once they are learning from their personal tutor in one on one tuition for Maths specifically, they are really learning the concepts. If a student's concept is clear, he/she can achieve a great score in any competitive exam such as - Olympiads, KVPY, NTSE, and Other Maths Challenges.
At Tuitionpad, students enroll in one-to-one Maths Tuition, they have been very sharp concepts-wise and more than 50% of students attempt other competitive exams like Olympiads, Scholarship Tests, Entrance Exams, Quizzes, and Maths Challenges. 87% of these students get great scores in these exams.
-From Rajesh (Founder, Tuitionpad)
Looking for one-to-one Maths Tuition by India's best teachers?
Book your FREE Demo Class Now.